WEEKLY RESIDENTIAL  MARKET UPDATE 

Industry & Market Highlights 
Behind Us – Ahead of Us  
Thank you for a wonderful and crazy year.  It is a privilege to be part of your beautiful lives.  Wishing you and your loved ones a wonderful Christmas holiday season and a prosperous new year!
End of the year is a great time to reflect on the year behind us, to consider our victories and our losses, and to plan for what lies ahead of us.  If have not yet set you business plan for 2019, now is the time.   If you fail to plan, you plan to fail.  Plan your success, and work your plan!
2018 Year in Review – The Year Everything Changed
Every year, somewhat controversial economist David Collum writes a detailed "Year in Review" synopsis full of keen perspective and plenty of wit. This year's is no exception.  It's a long post and a very interesting read with loads of good information.  Read the full article here.  A downloadable pdf of the full article is available here.  He got one thing wrong with this statement: "We're all doomed to burn in eternal hell, but I can only say that so many years in a row before it starts getting old."  Here's something way more important that he missed. The eternal lake of fire is reserved for those who oppose and reject their free gift or redemption and salvation of their eternal souls.  Then He will say to those on his left, 'Depart from me, you who are cursed, into the eternal fire prepared for the devil and his angels.  It was also about these that Enoch, the seventh from Adam, prophesied, saying, "Behold, the Lord comes with ten thousands of his holy ones, to execute judgment on all and to convict all the ungodly of all their deeds of ungodliness that they have committed in such an ungodly way, and of all the harsh things that ungodly sinners have spoken against him."  But to all who did receive him, who believed in his name, he gave the right to become children of God.  For God so loved the world that he gave his one and only Son, that whoever believes in him shall not perish but have eternal life.  The Roman Empire got the birth of Christ Jesus wrong when they incorporated Christ mass into traditional pagan festivals celebrated on December 25th.  His Actual birth is estimated to be in early April 4-6 BC based on historical accounts.  Reach out to me if you have questions about this.
A softened stance on future rates hikes
Back in October it was "clear sailing, all ahead full".  Now the forecast is calling for headwinds and choppy seas and poor visibility.
When the Bank of Canada bumped its trend setting rate to 1.75% the economic statement spoke of full capacity, full employment, growing wages and rising inflation.  The Bank and market watchers were confident interest rates would continue their measured, upward march.
But that straight path has taken a turn, and in December the BoC did not move up, it stepped aside.
In the main, the central bank is being dictated by international developments.  Expanding trade disputes, obstructive tariffs and falling oil prices are weighing on the Canadian economy.  The uncertainty has led to a pull-back in business investment and projections for GDP growth have been reduced.
The Bank has shifted away from saying the economy is operating "at" capacity and is now being vaguer, saying the indicators show the economy is operating at "close" to capacity.  In the language of central bankers that is a very wide gap.
The Bank of Canada has also softened its stance on future rate hikes.  It had been saying rates would have to climb to their neutral level – neither stimulating nor retarding the economy.  Now it says rates will have to rise into the neutral range.  The Bank is not saying what that range is, only that we will know it when we see it.  Given the inflation forecast we may be much closer to that range than previously thought.  By First National Financial. 
No mandatory home energy audits  
Final nail in the coffin of mandatory home energy audits.   Mandatory home energy audits were a costly program proposed by the previous government that would have cost home sellers thousands of dollars in equity and punished REALTORS® – forcing you to post results of your clients' energy audit on MLS® before you could list a property.
Premier Doug Ford announced at the Ontario REALTOR® Party Conference that the Ontario government has officially put an end to the program. He also called OREA a trusted advisor, complimented real estate professionals in general and sent a clear message that his Government values affordable home ownership for families across Ontario.
This is another big government relations win for REALTORS® that protects the dream of home ownership in Ontario!  By OREA Ontario Real Estate Association. 


Economic Highlights
CMHC  
Statistics released today by the Canadian Real Estate Association (CREA) show that national home sales dipped for the third consecutive month, down 2.3% from October to November and down a whopping 12.6% year-over-year. Transactions declined in just over half of all local markets, with lower activity in the Greater Toronto Area (GTA), the Greater Vancouver Area (GVA) and Hamilton-Burlington offsetting increased sales in Edmonton. Sales were down from year-ago levels in three-quarters of all local markets, including the Lower Mainland of British Columbia, Calgary, the GTA and Hamilton-Burlington.
These data suggest a double-digit national sales decline in 2018, falling to its lowest level in five years even though the economy is reaching full employment. Next year's growth in sales and prices will likely be moderated by recent policy changes from different levels of government, in addition to upward pressure on interest rates.
Many had expected a rebound in sales in British Columbia, but so far it has not materialized. The rebound in sales in Ontario last summer has now run its course and activity in Alberta has edged lower. Housing transactions in Quebec, in contrast, were strong.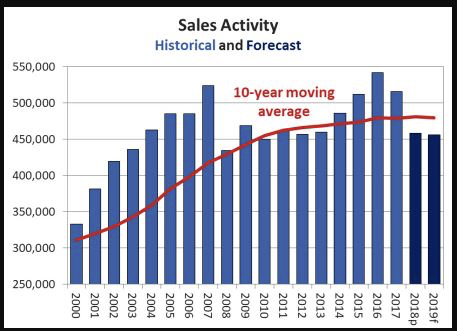 New Listings
The number of newly listed homes fell by 3.3% between October and November, with new supply declining in roughly 70% of all local markets.
With new listings having declined by more than sales in November, the national sales-to-new listings ratio tightened slightly to 54.8% compared to 54.2% in October. This measure of market balance has remained close to its long-term average of 53.4% since the beginning of 2018.
Based on a comparison of the sales-to-new listings ratio with the long-term average, about 60% of all local markets were in balanced market territory in November 2018. There were 5.4 months of inventory on a national basis at the end of November 2018. While this remains in line with its long-term average of 5.3 months, the number of months of inventory is well above its long-term average in the Prairie provinces as well as in Newfoundland & Labrador. By contrast, the measure is well below its long-term average in Ontario, New Brunswick and Prince Edward Island. In other provinces, sales and inventory are more balanced.
Home Prices
The Aggregate Composite MLS® Home Price Index (MLS® HPI) was up 2.3% y/y in October 2018, down once again on a month-over-month basis.
Following a well-established pattern, condo apartment units posted the largest year-over-year price gains in November (+6%), followed by townhouse/row units (+4%). By comparison, one-storey single-family homes posted a modest increase (+0.4%) while two-storey single-family home prices held steady (+0.1%).
Trends continue to vary widely among the 17 housing markets tracked by the MLS® HPI. In British Columbia, home price gains have been steadily diminishing on a y/y basis in the Fraser Valley (+4.7%) and Victoria (+7.2%). By contrast, price gains picked up elsewhere on Vancouver Island (+12.6%) and, for the first time in five years, were down (-1.4%) from year-ago levels in the GVA. On a month-over-month basis, prices fell 1.9% in Greater Vancouver in November, the most since 2008, adding to the recent series of price declines in Canada's most expensive housing market.
Among housing markets tracked by the index in the Greater Golden Horseshoe region, MLS® HPI benchmark home prices were up from year-ago levels in Guelph (+9.3%), the Niagara Region (+7.2%), Hamilton-Burlington (+6.3%), Oakville-Milton (+3.4%) and the GTA (+2.7%). Meanwhile, home prices in Barrie and District remain below year-ago levels (-2.1%).
Across the Prairies, benchmark home prices remained below year-ago levels in Calgary (-2.9%), Edmonton (-1.9%), Regina (-4%) and Saskatoon (-0.3%). Excess supply of listings relative to demand will continue to put downward pressure on prices until economic activity in the region strengthens.
In contrast, home prices rose 6.6% y/y in Ottawa (led by a 7.3% increase in two-storey single-family home prices), 6.2% in Greater Montreal (driven by a 9.4% increase in townhouse/row unit prices) and 4.2% in Greater Moncton (led by an 11.2% increase in townhouse/row unit prices). (Table 1)
The actual (not seasonally adjusted) national average price for homes sold in November 2018 was just over $488,000, down 2.9% from the same month last year.
Sales in Greater Vancouver and the GTA, two of Canada's most active and expensive markets, bias upward heavily skew the national average price. Excluding these two markets from calculations cuts almost $110,000 from the national average price, trimming it to just over $378,000.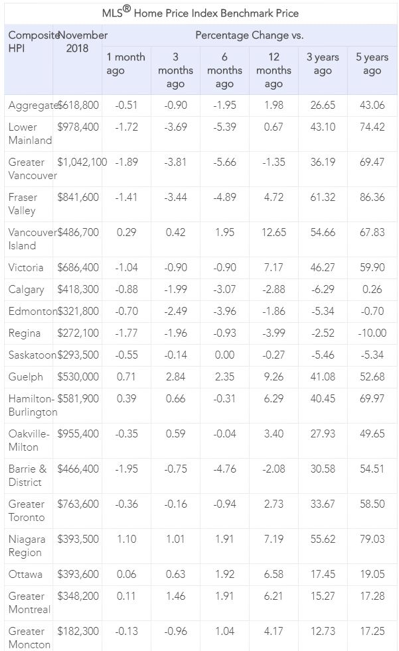 Bottom Line
We are likely in store for a prolonged period of modest housing gains in the Greater Golden Horseshoe, stability or softening in British Columbia and further weakening in the Prairies, Alberta, and Newfoundland & Labrador.
The Canadian housing market has slowed considerably since mid-2017 and is ending the year on a quiet note. Two offsetting forces are impacting housing—strong population growth and rising rates. Sluggish sales and modestly rising prices nationally are likely in store for 2019. While there will still be some significant regional divergences, there is no need for further policy actions to affect demand.  By Dr. Sherry Cooper.  Chief Economist, Dominion Lending Centres. 
Mortgage Interest Rates
Prime lending rate is 3.95%.  Bank of Canada Benchmark Qualifying rate for mortgage approval remains at 5.34%.  Fixed rates are on hold.  Deep discounts are offered by some lenders for variable rates making adjustable variable rate mortgages very attractive.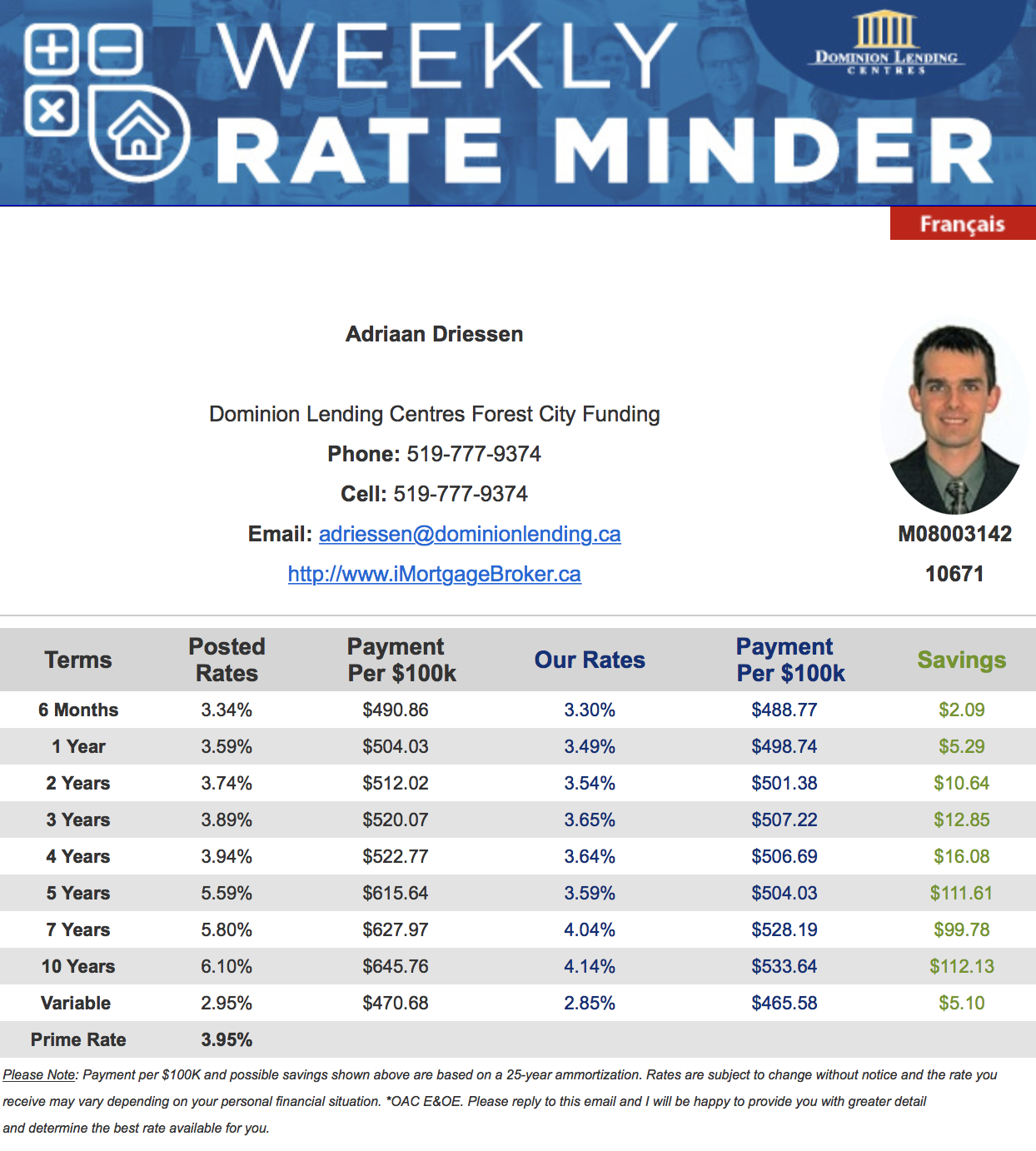 Other Industry News & Insights
Roundup of the latest mortgage and housing news.
From Mortgage Professionals Canada.
There is never a better time than now for a free mortgage check-up.  It makes sense to revisit your mortgage and ensure it still meets your needs and performs optimally.  Perhaps you've been thinking about refinancing to consolidate debt, purchasing a rental or vacation property, or simply want to know you have the best deal?  Whatever your needs, we can evaluate your situation and help you determine what's the right and best mortgage for you.
Adriaan Driessen
Mortgage Broker 
Dominion Lending Forest City Funding 10671
Cell:     519.777.9374
Fax:      519.518.1081
415 Wharncliffe Road South
London, ON, N6J 2M3
Adriaan Driessen
Sales Representative & Senior Partner
PC275 Realty Brokerage
Cell:     519.777.9374
Fax:      519.518.1081
415 Wharncliffe Road South
London, ON, N6J 2M3