WEEKLY RESIDENTIAL MARKET UPDATE


Industry & Market Highlights
Canada's Housing Market Continues Soft Landing
Data released today by the Canadian Real Estate Association (CREA) show a small uptick in home sales nationally in March, their first monthly increase in three months. This comes on the heels of a more than 19% decline in the previous two months as the tighter mortgage stress-testing rules at federally regulated lenders have reportedly impacted one in three potential buyers. The uptick in March sales suggests that the housing market is beginning to move beyond the payback period for activity pulled forward at the end of last year ahead of the new rules introduced on January 1, 2018.
The outlook for the housing market is likely to be uneven as the new market-cooling measures announced in the BC budget are poised to lengthen the adjustment process in that province. Indeed, home sales in Vancouver are still declining as resales dropped 8.6% in March from the prior month while benchmark prices again edged up 1.1%. Vancouver has not seen so few homes change hands since 2013. The February BC budget introduced a new speculation tax as well as an expanded foreign buyers tax, and a tax hike on home sales and school taxes for properties worth more than $3 million.
For the country as a whole, existing home sales inched up 1.3% from February to March. Nevertheless, national sales activity in the first quarter slid to its lowest quarterly level since the first quarter of 2014.
March sales were up from the previous month in over half of all local housing markets, led by Ottawa and Montreal. Monthly sales gains were offset by declines in B.C.'s Lower Mainland, the Okanagan Region, Chilliwack, Calgary and Edmonton.
Actual (not seasonally adjusted) activity was down 22.7% from record activity logged for March last year and marked a four-year low for the month. It also stood 7% below the 10-year average for the month. Activity came in below year-ago levels in more than 80% of all local markets, including every major urban centre except Montreal and Ottawa. The vast majority of year-over-year declines were well into double digits.
"Government policy changes have made home buyers and sellers increasingly uncertain about the outlook for home prices," said CREA President Andrew Peck. "The extent to which these changes have impacted housing market sentiment varies by region," he added.
"Recent changes to mortgage regulations are fueling demand for lower-priced homes while shrinking the pool of qualified buyers for higher-priced homes," said Gregory Klump, CREA's Chief Economist. "Given their limited supply, the shift of demand into lower price segments is causing those sale prices to climb. As a result, 'affordably priced' homes are becoming less affordable while mortgage financing for higher priced homes remains out of reach of many aspiring move-up homebuyers."
New Listings
The number of newly listed homes rose 3.3% nationally in March. However, new listings have not yet recovered from the 21.1% plunge recorded between December 2017 and January 2018–the most substantial month-over-month decline on record according to the CREA. With sales up by less than new listings in March, the national sales-to-new listings ratio eased to 53% in March. The long-term average for the measure is 53.4%.
Based on a comparison of the sales-to-new listings ratio with its long-term average, more than 60% of all local markets were in balanced market territory in March 2018. There were 5.3 months of inventory on a national basis at the end of March 2018 – unchanged from February, when it reached the highest level in two-and-a-half years. The long-term average for the measure is 5.2 months.


Home Prices
On a national basis, the Aggregate Composite MLS Home Price Index (HPI) rose 4.6% y/y in March posting the 11th consecutive deceleration in y/y gains. This continued the trend that began last April when the province of Ontario announced its new housing measures that included a 15% tax on nonresident foreign homebuyers. The slowing y/y home price growth mainly reflects the trend for the Greater Golden Horseshoe. Prices in that region have stabilized or begun to show tentative signs of moving higher in recent months; however, year-over-year comparisons are likely to continue to deteriorate further due to rapid price gains posted one year ago.
Nationally, apartment condo units continued to show the highest y/y price gains in March (+17.8%), followed by townhouse/row units (+9.4%), one-storey single family homes (+1.3%). Two-storey single-family homes prices were down from a year ago (-2.0%), continuing the trend of the past year. Despite having stabilized over the second half of last year, y/y declines for single-family home prices may persist over the first half of 2018.
In the GTA, the Composite MLS HPI rose 3.2% y/y, which was driven by an 18.8% y/y rise in condo apartment prices and 7.5% growth in townhouse prices. Single-family detached home prices were down slightly compared to February 2017.
Benchmark home prices in March were up from year-ago levels in 9 out of the 14 markets tracked by the MLS® HPI (see the table below). Composite benchmark home prices in the Lower Mainland of British Columbia continued to trend higher after having dipped briefly during the second half of 2016 (GVA: +16.1% y/y; Fraser Valley: +24.4% y/y). Apartment and townhouse/row units have been driving this regional trend in recent months while single-family home prices in the GVA have held steady. In the Fraser Valley, single-family home prices have also begun to rise.
Benchmark home prices continued to rise by about 15% y/y in Victoria and by roughly 20% elsewhere on Vancouver Island.
Within the Greater Golden Horseshoe region of Ontario, price gains have slowed considerably on a y/y basis but remain above year-ago levels in Guelph (+7.5%). Meanwhile, home prices in the GTA and Oakville-Milton were down in March compared to one year earlier (GTA: -1.5% y/y; Oakville-Milton: -7.1% y/y). These declines primarily reflect price trends one year ago and mask evidence that home prices in the region have begun trending higher.
Calgary and Edmonton benchmark home prices were little changed on a y/y basis (Calgary: +0.3% y/y; Edmonton: -0.5% y/y). Prices in Regina and Saskatoon remained down from year-ago levels (-4.6% y/y and -3.4% y/y, respectively).
Benchmark home prices rose by 7.7% y/y in Ottawa (led by an 8.6% increase in two-storey single-family home prices). Prices shot up by 6.2% in Greater Montreal (driven by a 7.4% increase in two-storey single-family home prices) and by 4.9% in Greater Moncton (led by a 6.3% increase in one-storey single-family home prices).
Bottom Line
Housing markets continue to adjust to regulatory and government tightening as well as to higher mortgage rates. The speculative frenzy has cooled, and multiple bidding situations are no longer commonplace in Toronto and surrounding areas. Home prices in the detached single-family space will remain soft for some time, and residential markets are now balanced or favour buyers across the country. The hottest sector remains condos where buyers face limited supply.
Owing to the housing slowdown, a general slowing in the Canadian economy and significant trade uncertainty, the Bank of Canada will continue to be cautious.
Only 20% of investors expect the Bank of Canada to hike interest rates when they meet again on Wednesday. However, Governor Poloz will likely return to the rate-hike path in the second half of this year as inflation and growth are beginning to move higher. On a year-over-year basis, all measures of inflation have risen to the 2% range, and inflation will likely climb above the Bank's 2% target pace in coming months, while growth should also return to an above-2% pace after a recent slowdown.
The Bank has maintained a cautious stance for months as inflation averaged only 1.6% last year, and the economy decelerated more than expected in the second half, amid signs that indebted households had begun slowing consumer spending. The economy grew at an annualized pace of 1.7% in the fourth quarter, versus economist expectations for 2% growth. Third-quarter gross domestic product growth was also revised lower.
After leading the Group of Seven in growth last year, the Canadian economy has lost momentum reflecting the slowdown in housing and longstanding productivity underperformance. The U.S. economy recorded growth rates of 3.2% in the third quarter and 2.5% in the last three months of 2017. Canada hasn't trailed the U.S. in growth to this extent since early 2015, and the gap could well widen with this year's U.S. tax cut favouring corporations.
But the environment is changing as inflation is likely to average 2.3% in the second quarter and 2.4% in the third as oil prices continue to rise. Nevertheless, most economists expect only two rate hikes this year–in July and October. That, of course, can change with incoming data surprises.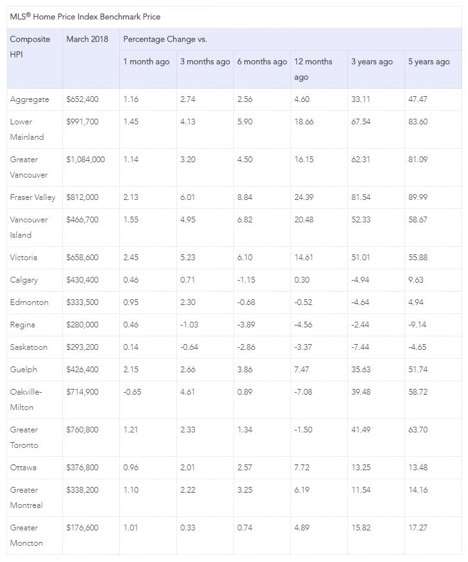 Dr. Sherry Cooper. Chief Economist, Dominion Lending Centres.
Residential Mortgage Commentary – The latest report from the CREA and the numbers for March
The latest report from the Canadian Real Estate Association certainly grabbed a lot of attention, especially the headline that said March sales plunged nearly 23% compared to a year ago. But, as always, the details provide a better picture of what is really happening.
A deeper look at the CREA numbers show sales for March 2018 were 7% below the 10-year average. This is a four-year low, but it is a long way from the 22.7% drop compared to the dizzying, record-setting highs of a year ago. Compared to February, March sales edged up 1.3%.
New listings improved by 3.3% in March. That put the sales-to-new-listings ratio at 53%, a little below the long-term average of 53.4%, but still well within the parameters of a balanced market.
The other eye-catching number in CREA's March report shows the national average price of a home tumbled more than 10% compared to a year ago. The overall, average price for a home of all types dropped to $491,000. Despite apparent price declines that number was still skewed by Vancouver and Toronto. With those two markets removed from the equation the national average price is $383,000 – a mere 2% decline from March of 2017.
CREA's own MLS home price index shows gains are continuing to slow, but still registered a moderate 4.6% year-over-year increase in March. The report also shows unsold housing inventory has hit a two and-a-half year high at 5.3 months, which is in line with the long-term average of 5.2 months. By First National Financial.
Canadian Housing Starts
In March, the national trend in housing starts was stable for the fifth consecutive month, as diverging trends for multi-unit and single-detached dwellings continue to offset each other. Over this period, multi-unit starts have trended higher in most major urban centres while single-detached starts have trended lower.
The trend in housing starts was 226,842 units in March 2018, compared to 225,804 units in February 2018. This trend measure is a six-month moving average of the monthly seasonally adjusted annual rates (SAAR) of housing starts.
See the full CMHC report on Housing Start Data Here.


Economic Highlights
What are the latest real estate statistics and the results of the Business Outlook Survey?
Before I get into the latest breaking mortgage and fixed income news, it's worth mentioning that both the NBA and NHL playoffs are starting this week. This year, only two Canadian teams made the Eastern Conference playoffs: the Toronto Raptors and the Toronto Maple Leafs. Since we've talked about the correlation between playoff success and GDP growth in the past, I am sure everyone in this great nation is cheering for Toronto teams to have championship seasons!
Rates
A little refresher on what happened to major rates since last week. The 5 year Government of Canada closed 2.00% even last Friday and is currently at 2.11% or 11bps higher. The 10 year had a similar move, closing at 2.14% last week and is about 2.25% as of writing. It is worth highlighting the 5-10 spread which has narrowed substantially from a year ago. In April 2017, the difference between 5 and 10 year GoC yields was 45bps and has been decreasing steadily to today, at around 14bps. A recent 10 year deal for CCL Industries, unsecured and rated BAA2/BBB, was priced at +165 over the 10 year, which exemplifies some tightness in the sector. The key takeaway is, 10 year borrowing rates do seem narrow compared to the 5 year, so it could be worth taking a look at longer term borrowing opportunities with your local First National commercial expert.
Business Outlook Survey and Rate Hikes
Next week, April the 18th, the Bank of Canada is scheduled to make another rate hike decision. The market was pricing no move in the overnight rate, while highly anticipating this Monday's Business Outlook Survey (BOS) to see if it would move the needle at all. Basically, no, the needle was not moved. Currently, the probability of a rate hike next week sits at around 21% which was virtually unchanged by the BOS.
The Business Outlook Survey, which polls businesses around Canada, supported that the economy is solid, albeit not spectacular. The overall sentiment of the survey had businesses feeling positive about the economy. The majority of firms said sales grew over the last 12 months with many thinking about expansion. Capacity issues or the inability to meet demand, eased since the last survey from 56% to 47%, which is more akin to an economy working at full capacity. Another area of movement seen by business respondents was their inflation expectations. About 56% of respondents saw inflation at 2% or higher over the next two years, whereas the last report had only 38% of our job-creators seeing inflation above 2%. Major factors cited by the firms were increasing labour costs (minimum wage hikes) and higher commodity prices. The survey which occurred before the recent US and China trade tiff, also had 30% of respondents feeling they could be hurt by United States Policy going forward. Overall, the report reinforced that the economy is doing well and the Bank of Canada can use that in any which way they please.
Real Estate Statistics
In other news, this week had a plethora of real estate numbers come out. CREA home sales numbers came out today, with unit sales up 1.3% month over month nationally. GTA unit sales rose 2.1% month over month after two large previous declines of 24.9% and 7.9%. You could say this could be due to the implementation of B20 rules largely being baked in, but I won't go there.
Housing starts also came out earlier this week. Interestingly, to probably 1,500 people nationally, the data released by Statscan was delayed by a day. Is that a big deal? I don't know. Maybe we'll send this out on Monday one day and see if someone notices. The March housing starts came in at 225,200, which was above consensus of 216,800, but below February's revised 231,000. Overall, the decline was led by Toronto where multiples fell from 35k to 28.5k. Teranet data that came out also had the Home Price Index number decline 6.6% nationally, year over year.
In some mortgage news, The Canada Bankers Association released arrears stats Tuesday that showed only 0.24% of mortgages were in arrears. If that sounds low, it's because it is and actually matches the lowest reading for arrears data since 2006. About 11,600 mortgages were in arrears for three or more months, out of 4.8 million mortgages.
Finally, working for Jason, I would be remiss if I didn't mention that it's Friday the 13th. No, that's not in reference to Jason Voorhees of 90's teen horror fame. It's the traditional day where motorcyclist enthusiasts head down to Port Dover and celebrate all things motorcycle. Unfortunately, the weather doesn't look ideal this year which is always a risk with a rolling celebratory date. However, if you are more of a fair weather rider and prefer: comfort, lack of speed and European aesthetics, national Vespa day is annually June 23rd. Sign me up. By Andrew Masliwec, Analyst, Capital Markets, First National Financial.


Mortgage Interest Rates
No change to Prime lending rate currently at 3.45%. Bank of Canada Benchmark Qualifying rate for mortgage approval is at 5.14%. Many lenders have started moving fixed rates upward with about 15 basis points, upward pressure on fixed rates continue. Deeper discounts are are available for variable rates making adjustable variable rate mortgages more attractive again.

Now's the perfect time of year for a free mortgage check-up. With spring on its way and interest rates on the rise, it makes sense for us to revisit your mortgage and ensure it still meets your needs. Perhaps you've been thinking about refinancing to consolidate debt, purchasing a rental or vacation property, or you simply want to take a vacation. Whatever your needs, we can evaluate your situation and help you determine what's right for you.
Adriaan Driessen
Mortgage Broker
Dominion Lending Forest City Funding 10671
Cell: 519.777.9374
Fax: 519.518.1081
riebro@me.com
www.iMortgageBroker.ca
415 Wharncliffe Road South
London, ON, N6J 2M3
Adriaan Driessen
Sales Representative & Partner
PC275 Realty Brokerage
Cell: 519.777.9374
Fax: 519.518.1081
adriaan@pc275.com
www.PC275.com
415 Wharncliffe Road South
London, ON, N6J 2M3