Industry & Market Highlights 
How you are doing after 7 weeks or social distancing and quarantine restrictions due to the COVID-19 pandemic health crisis and the economic crisis?  We will continue to stay positive and take this one day at a time though we are all experiencing some devastating lows.  
There are signs of change and more positive news are brining hope that tides have turned and that we are taking a turn to head back to normal, but time will tell.  The return to new normal might look different than what we expect.  The spring market in real estate has returned and in our minds the sense of a new season have helped and we all hope the current new reality will become distance history sooner than later.
Thank you to our essential workers for their courage and compassion during fearful and uncertain times.  
We are always here to help you with good advice, guidance, counsel, direction or the right connections for your real estate mortgage financing related questions or needs.  Reach out to us!
Reminder to always research and consider facts and to not allow news media or social media to manipulate or disable our critical thinking with fear.
Factual Global Statistics Including COVID-19:
Ontario announces new list of businesses that can reopen
TORONTO — Ontario has announced a list of more businesses than can open, with strict guidelines in place, as the province moves with "cautious optimism" to restart the economy.
Premier Doug Ford said Wednesday garden centres and nurseries will be allowed to reopen as of Friday at 12:01 a.m. On Saturday, hardware stores and safety supply stores will also be allowed to reopen.
On May 11, retail stores with a street entrance will be allowed to reopen for curbside pickup.
We've been preparing to get more and more of our economy working again safely and cautiously because when it comes to reopening our economy I'd rather be safe than sorry," Ford said Wednesday.
MORE: Full list of businesses that can reopen in Ontario
"I want to be clear, all public health measures remain in place and will be strictly enforced. We can't take the progress we have made for granted."
"We will move with cautious optimism."
A small list of other non-essential businesses in the province were allowed to reopen on Monday, when some seasonal businesses and construction projects were given the green light to continue operating.
Businesses that can now open their doors to customers will have to follow the same guidelines as grocery stores and pharmacies currently do, including promoting physical distancing and frequent hand-washing, sanitizing surfaces, installing physical barriers, staggering shifts, and offering contactless payment.
The province is not yet at the point of entering the first stage of its reopening framework, which — in addition to allowing workplaces that can modify operations to reopen — would see the opening of parks, allowing for more people at certain events such as funerals, and having hospitals resume some non-urgent surgeries.
Before Ontario can reopen, the chief medical officer of health is looking for a consistent, two-to-four week decrease in the number of new cases.
Last week, provincial government released a list of sector-specific guidelines industries must follow in order to reopen. 
The government said the new safety guidelines provide direction to various industries including retail, health care, manufacturing, tourism, restaurant and food service, offices, construction sites, and transit and transportation services.
The premier also unveiled a three-phase plan to reopen following weeks of shutdown. The plan, dubbed "A Framework for Reopening our Province," states the parameters of each "gradual stage."
Ontario also extended its emergency orders today, which include the continued closure of non-essential businesses, as the province reported 412 new cases of COVID-19 and 68 more deaths.
With files from The Canadian Press.  By Sean Davidson. 
Home Sales Drop in April, While Average Sales Price Remains Steady
Local home sales decreased more than 50% in April, as the COVID-19 pandemic and the social distancing rules incurred by it slowed the momentum on what was shaping up to be another record year for LSTAR REALTORS®.
Last month, there were 469 home sales in the entire jurisdiction of the London and St. Thomas Association of REALTORS®, down 55.4% from April 2019 and 54.8% less than in April 2010. The number of LSTAR's listings dropped to 738 in April, which represents a 50.3% decrease from a year ago and 56.8% from ten years ago.
"As anticipated, the volume of sales was one of the lowest for April since the Association started tracking data, back in 1978," said 2020 LSTAR President Blair Campbell. "However, when analyzing these figures, one has to take into account a few facts: at the beginning of April, the Government of Ontario prohibited open houses, many Sellers decided to postpone putting their properties on the market and many REALTORS® stopped trading in order to protect their families and their clients. Now, with the provincial Government planning to re-open the economy, we are expecting that, once that happens, the local markets will start to gradually recover," he added.
Compared to a year ago, the overall average home price saw an increase of 0.4%, rising to $423,143 in April. This average sales price includes all housing types – from single detached homes to high rise apartment condominiums. In the five major areas of LSTAR's region, average home sales price performed differently. The following table illustrates last month's average home prices by area and how they compare to the values recorded at the end of April 2019.
"Looking at London's three main geographic areas, London South saw the highest number of home sales last month, while London North saw the biggest price gain compared to April 2019," Campbell said.
The average home price in London East was $353,009, up 3.7% from the same time last year, while in London North increased 4.6% over the same period to $530,499. In London South, which also includes data from the west of the City, the average home price was $428,479, down 1.6% over April 2019. St. Thomas saw an average price of $367,566, an increase of 3.1% from last April.
According to a report by the Canadian Real Estate Association, last month, in London, the median number of days that a home was on the market was 14 – up from 9 days in April 2019. In Elgin County, the median number of days spent by a home on the market was 18 – up from 16.5; in Middlesex County it was 16 – up from 15.5; in St. Thomas it was 14 days – up from 11; and in Strathroy was 8, down from 12 as compared to a year ago.
The following chart is based on data taken from the CREA National Price Map for March 2020 (the latest CREA statistics available). It provides a snapshot of how home prices in London and St. Thomas compare to some other major Ontario and Canadian centres.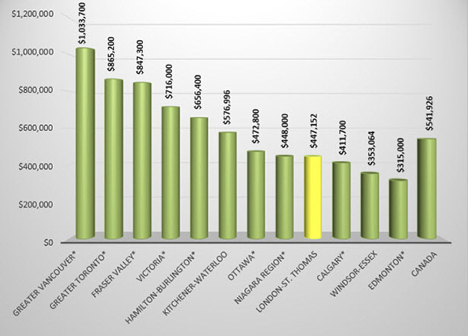 By LSTAR London St.Thomas Association of Realtors.
There's no such thing as a balanced market
You can't dance at two weddings at the same time.
In terms of real estate, I would say this saying could refer to a balanced market. Is there even such a thing as a long-term balanced market? I would suggest that the short answer is no. It is either a seller's market or a buyer's market.
We are well accustomed to these terms, which relate to months of inventory on MLS, sales-to-new-listing ratios or absorption rates. These are key figures to look at, as they are indicative of whether we are in an over-supply or under-supply situation. Supply is everything. Ignore days on market or sales-to-list price ratios, as these figures can be easily manipulated.
According to CREA, in March 2020, we had 4.3 months of inventory nationwide, with higher inventory in the Prairies and Newfoundland/Labrador. The sales-to-new listings ratio was 64 per cent. Both figures would indicate very light seller's market conditions.
You may think that 4.3 months of inventory is substantial (the long-term national average is 5.2 months, according to CREA). However, keep in mind that this inventory includes overpriced listings, unsaleable listings (usually because they are overpriced) and houses that are located on super-busy streets, in substandard areas and/or in poor physical condition (again, usually this is not reflected in the price). Irrespective of market conditions, I would suggest to you that, at a minimum, at least one-third of inventory falls into these categories. Yes… at least one-third of sellers are unmotivated (and this figure is probably higher). But this situation has existed for an eternity and won't go away.
A balanced market lies somewhere in-between. The glass is half full or half empty. Or is it? It is sort of like purgatory. Neither heaven nor hell.
I think that a balanced market is temporary. The sand keeps shifting, so sellers and buyers do not know how to react. During this temporary period, sellers usually lean towards the "glass is half full" mindset, sure that market conditions are bound to improve. Buyers tend to lean towards the "glass is half empty", thinking that the sky is falling. This is why, during balanced market conditions, it is so difficult to bring deals together. There is a chasm between the mindsets of both parties. We can only start doing more business when inventory either decreases or increases, and the gap between seller and buyer mindsets closes.
We are set to enter buyer's market conditions across our fair nation. This means that we will see inventory exceed five months on average and the sales-to-new-listings ratio fall to below 40 per cent. Assuming inventories don't swell, it certainly will be easier to bring buyers and sellers together than during temporary balanced times. Mark my words, inventory will grow as we enter into an economic recession.
Purchasers will be worth gold in a buyer's market. So will motivated sellers. There is an old adage in real estate that I learned from the wonderful, late real estate mentor Howard Brinton: "In life you want to be the first-born child, the second spouse and the third Realtor." Maybe it's time to say good-bye to unmotivated clients and refocus on good business. Gone are the days where the seller says, "We are in no rush to sell" or "We are not going to give it away." If we each had a loonie for every time that we heard that in our careers, we would be sitting together on a beach in the Caymans.
When we represent buyers in the new market reality, we need to keep a list of "the top 10 buys in today's market." Who doesn't want a great buy? When we represent sellers, we need to show them where their home falls in relation to the competition, and price ahead of the market. More than ever, our listings need to be best in class, beautifully presented and the best priced in their segments.
And, we'll have to be more creative in putting deals together. Buyers will be fussier than ever on inspections. Old roof shingles may be a problem. Sellers may have to re-roof or replace their furnace as a contingency in an offer. Vendor-take-back-mortgages may come back in vogue for hard-to-finance buyers.
In my last article in REM, I wrote about getting back to basics in our business. Part of this new reality is to take a hard look at our buyer and seller clients and choose to work with those who are most motivated. The glass is half full.  By Paul Maranger.
Residential Market Commentary – The new boss. Same as the old boss?
The Bank of Canada has a new Governor.  And it could be said that everything old is new again.
Current Governor Stephen Poloz will step down, as scheduled, at the start of next month.  He will be replaced by Tiff Macklem, an old hand at the central bank.
Macklem is currently the dean of the Rotman School of Business at the University of Toronto, but he has a long history at the Bank of Canada and was the senior deputy governor under Mark Carney.  He was also a deputy to finance minister Jim Flaherty and helped guide Canada through the Global Financial Collapse and the Great Recession.
Macklem's experience with that crisis appears to have been a key factor in his appointment, as Canada now faces the economic fallout of the coronavirus pandemic.
Macklem and the Bank of Canada are in a tight spot.  They have run out of room to reduce interest rates and they are spending billions of dollars a week buying government bonds.  Macklem has already expressed his reluctance to see interest rates go negative, calling that move "a new source of disruption", in an already disrupted financial system.
Given Macklem's record we can look forward to a more staid, Carney-like, Governor.  (Stephen Poloz has been positively lively compared to many of his predecessors.)  As during the last crisis, the Bank could work to calm markets and investors with more forward guidance.  And, it is unlikely Macklem will tinker with the Bank's 2% target for inflation, which he helped develop back in 1991.  By First National Financial. 
COVID-19 to push the housing sector on a downward slope – Moody's
Market growth and activity in the Canadian housing sector will trend downward this year amid the sustained economic impact of the coronavirus outbreak, according to a recent study by Moody's Analytics.
In its "Canada Housing Market Outlook: Tough Times Ahead" report released last month, Moody's said that any pre-pandemic forecasts will have to be essentially scrapped.
"Shelter-in-place orders and social distancing have brought house hunting to a virtual halt while layoffs, the collapse in oil prices, and the plunge in equity prices have kept prospective buyers at bay," Moody's said. "The COVID-19 pandemic comes at a terrible time for Canada's economy. Trade and investment were already struggling to make gains as the U.S.-China trade war and Brexit weighed on global demand. The pandemic soured this already-weak outlook almost overnight."
With a clear majority of Canadians preparing themselves for the economy to worsen over the next few months, weaker consumer confidence and purchasing power will affect some regions more than others.
"The worst effects will be felt in regions that rely disproportionately on the leisure/hospitality, trade and energy industries," Moody's said, pointing at British Columbia and the Prairie provinces, in particular.
The report also said that these events will most likely aggravate other worrying trends.
On the national level, "the mortgage debt service ratio tracked by Statistics Canada increased from 6.4% of disposable income in mid-2016 to 6.8% in late 2019," Moody's said. "Consumer debt performance has also shown some signs of strain. In particular, bankruptcy filings and insolvency proposals have risen."  By Ephraim Vecina. 
Home construction to start bouncing back in July: Altus
While home construction in Canada will be significantly disrupted through the spring by the COVID-19 pandemic, one of the country's largest real estate consultancies sees builder activity beginning to ramp back up by the summer as restrictions introduced to combat the virus are loosened.
Speaking as part of a newly released web series, Altus Group Vice President and Chief Economist Peter Norman said home construction across the country would experience "considerable interruption" between April and June due to the strict social distancing and business shutdown measures in effect.
"Thereafter starts will begin to pick up again, but still be impacted by short-term interruptions to the sales cycle, and from supply chain turbulence at least through the third quarter. By the fourth quarter, starts are expected to have returned to normal and may even exceed recent highs as builders play catch up," said Norman.
Altus Group is currently forecasting 158,000 housing starts in Canada for 2020, a massive decline from the 208,700 starts recorded across the country last year. Prior to the pandemic, the firm had been projecting 209,000 starts for the year and 214,000 starts for 2021.
Housing market observers will then be pleased to hear that Norman believes the construction bounce back through 2021 will be substantial, with Altus pencilling in over 210,000 starts for the year.
In mid-March, before the scale of the pandemic's impact had fully emerged, Altus Group Executive Vice President Patricia Arsenault released a collection of scenarios that sought to outline the potential severity of the future disruptive effects on home construction.
Of the three scenarios explored — a minimal, moderate and prolonged disruption — Altus Group's current view on the pandemic's impact on Canadian home construction in 2020 aligns closely with Arsenault's 'prolonged disruption' scenario, the bleakest of the three.
However, Norman's forecast that housing starts will bounce back in 2021 is more upbeat and closer to the firm's original pre-pandemic prediction for the year.  By Sean MacKay.
Economic Highlights
Pandemic Batters Canadian Jobs Market
A Recession Like No Other
The Canadian economy has been put in a medically induced coma. Never before in modern history have we seen a forced shutdown in the global economy so, not surprisingly, the incoming data for April is terrible. There is a good chance, however, that April will mark the bottom in economic activity as regions begin to ease restrictions.
The economy will revive, but the psychological shock is perhaps the most unnerving. Rest assured, however that, as severe as this is, there are real opportunities here along with the challenges. There are economic winners, not just losers. More on that later.
Employment in Canada collapsed in April, with 2 million jobs lost, taking the unemployment rate to 13.0%, just a tick below the prior postwar record of 13.2% in 1982 (see chart below). The record decline is on the heels of the 1 million job loss in March, bringing the cumulative two-month total to 15.7% of the pre-virus workforce.
Economists had been expecting double the job destruction–a 4 million position decline in April–in reaction to the reports that over 7 million Canadians had applied for CERB. Today's news reflected labour market conditions during the week of April 12 to April 18. The applications for CERB are more recent, so we may well see these additional losses reflected in the May report. 
The 13% unemployment rate underestimates the actual level of joblessness. In April, the unemployment rate would have been 17.8% if the labour force participation rate had not fallen. Compared to a year ago, there were 1.5 million more workers on permanent layoff not looking for work in April – and so not counted as unemployed.
Also, the number of people who were employed but worked less than half of their usual hours for reasons related to COVID-19 increased by 2.5 million from February to April. As of the week of April 12, the cumulative effect of the COVID-19 economic shutdown—the number of Canadians who were either not employed or working substantially reduced hours—was 5.5 million, or more than one-quarter of February's employment level.
In April, both full-time (-1,472,000; -9.7%) and part-time (-522,000; -17.1%) employment fell. Cumulative losses since February totalled 1,946,000 (-12.5%) in full-time work and 1,059,000 (-29.6%) in part-time employment.

Decline In Employment is Unprecedented

The magnitude of the decline in employment since February (-15.7%) far exceeds declines observed in previous labour market downturns. For example, the deep 1981-1982 recession resulted in a total employment decline of 612,000 (-5.4%) over approximately 17 months.

More of the drop in employment now is the result of temporary layoffs. In April, almost all (97%) of the newly-unemployed were on temporary layoff, whereas in previous recessions, most of the dismissals were considered permanent.

In April, more than one-third (36.7%) of the potential labour force did not work or worked less than half of their usual hours, illustrating the continuing impact of the COVID-19 economic shutdown on the labour market. But job losses were also still weighted, on balance, more heavily in lower-wage jobs. Average wage growth for those remaining in employment spiked sharply higher as a result to 11% above year-ago levels.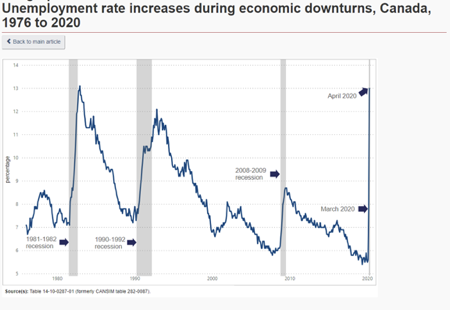 All provinces have been hard-hit
Employment declined in all provinces for the second month in a row. Compared with February, employment dropped by more than 10% in all regions, led by Quebec (-18.7% or -821,000).  Quebec leads the country in the number of COVID-19 cases and deaths.

The unemployment rate rose markedly in all provinces in April. In Quebec, the rate rose to 17.0%, the highest level since comparable data became available in 1976, and the highest among all provinces (see table below). The number of unemployed people increased at a faster pace in Quebec (+101.0% or +367,000) than in other regions.
Employment dropped sharply from February to April in each of Canada's three largest census metropolitan areas (CMAs). As a proportion of February employment, Montréal recorded the largest decline (-18.0%; -404,000), followed by Vancouver (-17.4%; -256,000) and Toronto (-15.2%; -539,000).
In Montréal, the unemployment rate was 18.2% in April, an increase of 13.4 percentage points since February. In comparison, the unemployment rate in Montréal peaked at 10.2% during the 2008/2009 recession. In Toronto, the unemployment rate was 11.1% in April (up 5.6 percentage points since February), and in Vancouver, it was 10.8% (up 6.2 percentage points).
Employment Losses By Sector
In March, almost all employment losses were in the services-producing sector. In April, by contrast, employment losses were proportionally larger in goods (-15.8%; -621,000) than in services (-9.6%; -1.4 million). Losses in the goods-producing sector were led by construction (-314,000; -21.1%) and manufacturing (-267,000; -15.7%).
Within the services sector, employment losses continued in several industries, led by wholesale and retail trade (-375,000; -14.0%) and accommodation and food services (-321,000; -34.3%).
Industries that continued to be relatively less affected by the COVID-19 economic shutdown included utilities; public administration; and finance, insurance and real estate.
In both the services-producing and the goods-producing sectors, the employment decreases observed in the two months since February were proportionally larger than the losses observed during each of the three significant labour market downturns since 1980.
As economic activity resumes industry by industry following the COVID-19 economic shutdown, the time required for recovery will be a critical question.
After the previous downturns, employment in services recovered relatively quickly, returning to pre-downturn levels in an average of four months. On the other hand, it took an average of more than six years for goods-producing employment to return to pre-recession levels following the 1981-1982 and 1990-1992 recessions. After the 2008-2009 global financial crisis, it took 10 years for employment in the goods-producing sector to return to pre-crisis levels.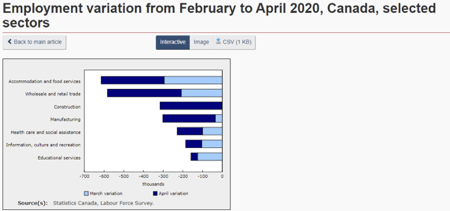 Green Shoots
As bad as things are, there is some evidence that the economy is approaching a bottom. Business shutdowns are easing in most provinces, and while it will be some time before we see a complete reopening, early signs of improvement are evident. Business sentiment appears to have improved somewhat towards the end of April, as evidenced by data from the Canadian Federation of Independent Business. The Royal Bank economists report that credit card spending looked less weak at the end of April. Housing starts for April held up better than expected. And, most importantly, the spread of Coronavirus has eased, and regions are starting to relax some of the rules to flatten the curve
Concerning the housing market, before the pandemic, we were going into the spring season with the prospect of record sales activity in much of the country. Aside from oil country–Alberta and Saskatchewan–all indications were for a red-hot housing market. So the underlying fundamentals for housing remain positive as the economy recovers. How long that will take depends on the course of the virus and whether we see a second wave in late fall. 
Interest rates have plummeted. Thanks to the 150 basis point decline in the prime rate, variable rate mortgage rates have fallen for the first time since late 2018. Once the Bank of Canada was able to establish enough liquidity in financial markets, even fixed-rate mortgage rates have fallen. 
The posted mortgage rate appears stuck at 5.04%, far above contract rates; but with any luck at all, this qualifying rate for mortgage stress tests will ease in the coming months. The Bank of Canada will remain extremely accommodating. In my view, interest rates will not rise until 2022.
Opportunities-There Will Be Winners
Even now, some businesses are enjoying a surge in revenues and profitability. Just to put a more positive note on this period of rapid change, I jotted down a list of companies that are thriving. Top of the list is Shopify, a Canadian company that helps businesses provide online shopping services. Shopify is now the most highly valued company in Canada, as measured by its stock market valuation, surpassing the Royal Bank. 
Many who never relied on online shopping have become converts during the lock-down. Amazon is another business that is benefiting, but Amazon needs more competition, and many Canadians would welcome some homegrown online rivals.
Loblaws, with its groceries and drug stores, is booming. So are the cleaning products companies like Clorox and paper products company Kimberly Clark. Staying at home has boosted sales at Wayfair, the online furniture and home products site. Peloton and suppliers of dumbbells and other fitness equipment are seeing increased revenues as people look for in-home alternatives to the locked-down gyms and health clubs. 
Demand for cloud services has boosted revenues at Microsoft and Dropbox. Home entertainment is booming, think Netflix and YouTube. Zoom and Cisco (Webex) are also big winners. Qualcomm stands to gain from a more rapid move to 5G. And Accenture and Booz Allen, among other business and government consultants, are busy helping companies reinvent their operations in a post-pandemic world.
In times of enormous uncertainty and volatility, people need expert advice and hand-holding, particularly concerning their finances. That's where mortgage professionals come in along with financial planners, realtors, accountants and tax lawyers.   By Dr. Sherry Cooper. Chief Economist, Dominion Lending Centres.
Housing will bear the full impact of COVID-19 by next year – CIBC
The impact of the coronavirus outbreak on the value of Canadian housing will fully manifest by next year, according to economists with the Canadian Imperial Bank of Commerce (CIBC).
"The expected volatility in overall economic activity in the coming quarters will not skip the resale market," said CIBC economists Benjamin Tal and Katherine Judge in a report last week. "By 2021, as the economics of housing returns to fundamentals, we expect an array of factors to result in a weaker market with some downward pressure on prices."
Among the most influential of these factors is the already-weakening employment sector, latest Statistics Canada figures indicated.
The national market suffered a 5.3% decline from February to March, representing more than 1 million lost jobs. Meanwhile, the unemployment rate rose by a record high 2.2% monthly, ending up at 7.8%.
Tal and Judge said that this trend will almost certainly lead to much slower demand. Rapidly-depleting budgets might also force some homeowners to sell in a less-than-ideal market environment, The Financial Post reported.
"Overall, as the fog clears, we expect to see average prices 5%-10% lower relative to 2019 levels, with high-cost units in the high-rise segment of the market seeing the most notable price declines," the economists said. "The cumulative damage suggests that when we recover, potentially at one point in 2021, we will be recovering into recessionary conditions." By Ephraim Vecina. 
Reduced selling will propel post-COVID-19 recovery – TD Economics
A vital component of the Canadian housing sector's post-coronavirus recovery phase is homeowners refraining from selling their assets, according to TD Economics.
"Absolutely key to our forecasts is the assumption that listings mirror sales by dropping substantially in the near term and recovering gradually thereafter," said TD economist Rishi Sondhi. "This puts a floor on prices and sustains relatively tight supply-demand balances across most markets, allowing for the resumption of positive price growth as provincial economies are re-opened."
Such estimates have to be tempered by the reality of dwindling budgets forcing some homeowners to sell in a suboptimal market environment, however.
"Indeed, we anticipate the gap between listings and sales to grow in coming months, as financial stresses force some homeowners to list their properties," Sondhi said.
Sales fell by 14.3% month-over-month, while new listings declined by 12.5% during the same period, according to March data from the Canadian Real Estate Association.
The Teranet–National Bank of Canada House Price Index predicted that this trend would only intensify, especially in traditional hotspots like Toronto and Vancouver, over the next few months.
"At the national level, resale home prices were still gaining momentum in March. But this is based on home sales reported in land registries," Teranet said. "The most important real estate boards all mentioned a clear break of activity during the second half of March due to measures to contain propagation of COVID-19."
On the other hand, homeowners might find a measure of relief in "a jobs market that will likely improve starting next month," Sondhi said. "Next year should see much stronger activity, as markets benefit from significant pent-up demand and historically low interest rates."  By Ephraim Vecina. 
COVID-19's fiscal impact likely far worse than 2008-09 – economist
The effects of the coronavirus pandemic on Canadian finances are likely to be more pronounced than those seen during the 2008-09 recession, according to economist David Rosenberg.
"I think it is a global depression," Rosenberg said in an interview with BNN Bloomberg. "It depends on what you want to define as a recession or depression. A recession is a haircut to GDP and within a year, who's going to be talking about a recession anymore? Nobody. But with a depression, you're still going to be talking about it for the next five, 10 years."
As of Wednesday, more than 3 million cases of COVID-19 have been reported in over 185 nations and territories. Economies have stagnated as governments around the world implemented strict measures, including social distancing and work stoppages, to halt the spread of the contagion.
Mounting debt and unemployment are exacerbating the threats to Canada's economy and financial system, Rosenberg said.
"If we call '08 and '09 the 'Great Recession,' this is 10 times worse at any level. How is this just a plain little recession?" Rosenberg said. "Depression is something that happens every century but the definition is that this will cause a secular shift in attitudes in terms of how we live, how we work and how we travel, and the approach toward debt and spending. This is going to be a long-lasting impact here."
Laura Dottori-Attanasio, head of domestic banking at Canadian Imperial Bank of Commerce, recently mirrored these sentiments, saying that the crisis might trigger a vicious downward spiral in the national market.
"I think it's been really tough on people, not just financially but mentally – there's just so much stress in the system," Dottori-Attanasio said. "That stress will continue to build until we get a little more clarity about what happens next and when it happens. We do have a highly indebted Canadian consumer that we've been talking about for quite some time, and just under half of Canadians live paycheque to paycheque."  By Ephraim Vecina. 
Mortgage Interest Rates
Fixed mortgage rate are slowing trending downward again.  Variable rates remain unchanged.   View rates Here – and be sure to contact us for a quote to help you find the lowest rate for your specific needs and product requirements.
The Bank of Canada's target overnight rate is 0.25%.  Prime lending rate is 2.45%.  What is Prime lending rate?  The prime rate is the interest rate that commercial banks charge their most creditworthy corporate customers. The Bank of Canada overnight lending rate serves as the basis for the prime rate, and prime serves as the starting point for most other interest rates.  Bank of Canada Benchmark Qualifying rate for mortgage approval is 5.04%. 
Your Mortgage
If you have concerns about your mortgage and the rapidly changing market, please contact us to discuss your needs, concerns and options in detail to protect your best interest
Ensure that your current mortgage is performing optimally, or if you are shopping for a mortgage, only finalize your decision when you are confident you have all the options and the best deals with lowest rates for your needs.
Here at iMortgageBroker, we love looking after our clients' needs to ensure you get all the options and the best deals and best results.  We do this by shopping your mortgage to all the lenders out there that includes banks, trust companies, credit unions, mortgage corporations & insurance companies.  We do this with a smile, and with service excellence!
Reach out to us – let us do all the hard work in getting you the best results and peace of mind!
Adriaan Driessen
Mortgage Broker 
Dominion Lending Forest City Funding 10671
Cell:     519.777.9374
Fax:      519.518.1081
500 South Street, Suite 2
London, ON, N6B 1C3
Lori Richards Kovac
Mortgage Agent
Dominion Lending Forest City Funding 10671
iMortgageBroker Inc.
Cell:     519.852.7116
Fax:      519.518.1081
500 South Street, Suite 2
London, ON, N6B 1C3
Adriaan Driessen
Sales Representative & Senior Partner
PC275 Realty Brokerage
Cell:     519.777.9374
Fax:      519.518.1081
500 South Street, Suite 2
London, ON, N6B 1C3