Industry & Market Highlights
CMHC: Housing market is no longer "highly" vulnerable
Canada's housing market has been rated as "highly vulnerable" for 10 consecutive quarters but the risk is easing.
The latest quarterly assessment from the CMHC says improved conditions – mostly easing price acceleration – have reduced the vulnerability to moderate.
"Even though moderate evidence of overvaluation continues for Canada as a whole, there has been improved alignment overall between house prices and housing market fundamentals in 2018 in comparison to the previous year," said Bob Dugan, Chief Economist, Canada Mortgage and Housing Corporation.
Regional risk varies
But while the national picture appears rosier, some local markets still pose a risk.
Vancouver, Victoria, Toronto, and Hamilton are still considered highly vulnerable even as prices ease back to levels that CMHC believes can be supported by housing market fundamentals including population, personal disposable income and interest rates.
Vancouver's evidence of overvaluation has reduced from high to moderate and evidence of overheating is also lower. Toronto's overvaluation evidence is also now moderate rather than high.
There is evidence of a moderate degree of vulnerability in Edmonton, Calgary, Saskatoon, Regina and Winnipeg, mainly due to continued evidence of overbuilding.
Montreal and Moncton are showing evidence of overheating as the markets tighten.
Ottawa, Montréal, Québec City, Moncton, Halifax and St. John's all have low degrees of vulnerability.
The report is based on data as of the end of December 2018 and market intelligence up to the end of March 2019.  By Steve Randall. 
Bank of Canada pulls up a seat on the sidelines  
As expected the Bank of Canada has, once again, moved to the sidelines when it comes to interest rate policy.  This time, though, the bankers appear to have unfolded their lawn chairs, taken a seat and put their feet up; settling-in for an extended period of inactivity.
The central bank's benchmark policy rate was left unchanged at 1.75% during last week's setting.  More significantly, the Bank made a small change in wording to its Monetary Policy Report that sends a big message.  It eliminated references to the need for future interest rate hikes, signalling it has shifted to a wait-and-see status.  Many market watchers do not expect any rate increases (or decreases) until early 2020.
So what would it take for the Bank of Canada to get back in the game?  It would have been something drastic, like a sudden jump in inflation or a rapid drop in employment.
Right now, though, the Bank finds itself somewhat boxed-in.  Inflation is showing some signs of increasing, but not enough to justify interest rate intervention.  Canadian household debt is climbing back into record territory and higher rates would only compound that problem. 
The BoC has to pay attention to what the U.S. Federal Reserve is doing, and right now there is little political appetite for rate increases in the United States.  As well, the election cycle is heating up in both the U.S. and Canada and central banks are loath to make any moves that could be seen as giving advantage to any side in an election campaign.  By First National Financial. 
Residential Market Commentary – The Fed holds firm
Market watchers have received one of the strongest signals yet that interest rates are not going anywhere, anytime soon.
The U.S. Federal Reserve has held the line on its trend-setting policy rate, maintaining it in the range of 2.25% to 2.50%.  The central bank also made it clear (or, at least, as clear as central banks ever do) that it will not be moving rates given the current state of the American economy.
Unlike Canada, the main sticking point in the United States is inflation.  Here the economy is experiencing weak growth.  The Bank of Canada blames that on low oil prices and business investment that is being constricted by global trade uncertainties.  In the U.S. the economy has shaken off the doldrums that set in at the end of last year.  GDP grew by 3.2% in the first quarter this year and unemployment is a record lows.  But inflation is running at just 1.5%.  The Fed's target is 2.0%.
Weak inflation is seen as a problem because it tends to suppress consumer spending, which is the main driver of the American economy.  By First National Financial.
Poloz Says Mortgage Market Should Offer More Options 
In a speech early this week, Bank of Canada Governor Stephen Poloz said that it is time for some fresh ideas for Canada's mortgage market. He suggested that changes could include encouraging longer than 5-year duration fixed-rate mortgage loans, the creation of a market for private mortgage-backed securities and the launch of shared-equity mortgages for first-time homebuyers proposed in the March federal budget.
Taking these in turn, only two percent of all fixed-rate loans issued in 2018 had durations longer than five years. For borrowers, this would mean less interest-rate risk if they dealt with fewer renewals; however, this is not the full story.
Firstly, 65% of all 5-year mortgage holders break their mortgage by around month 33. Also, some banks and many mortgage brokers offer fixed-rate loans with durations of 7, 8, or even 10 years. However, the borrower pays dearly for this insurance against rising rates. Since the introduction of mortgage stress tests, many borrowers have trouble qualifying for loans as it is. Most want lower, rather than higher, monthly payments and demand for longer-duration mortgages is so low because they cost a full 100 basis points or more above existing 5-year mortgage loans. Besides, interest rates have been low and even falling over most of the period since 1982. Fear of significant rate spikes has diminished dramatically.
Poloz agrees there is some momentum in Canada towards the creation of a private market for mortgage-backed securities. He said it would provide a more flexible source of long-term funds for mortgages not insured by CMHC. To the extent that enhanced sources of capital would reduce the cost of funding for lenders, it might reduce the rate spread between 5-year and longer-duration mortgages, making them more attractive. But, again, perceived rate risk and the actual less than 5-year duration of most mortgages begs the question of why Poloz is providing an answer to a question no one is asking.
Indeed, data show that Millennials in Canada are buying homes in Canada's most expensive cities. Royal Bank economists found that "apart from a short-lived slowdown in 2015 resulting from changes in the temporary foreign worker program, the population aged 20-to-34 in Vancouver, Toronto and Montreal has grown solidly over the last dozen years. …The inflow of millennial immigrants is poised to grow in the coming years. Canada will increase its annual immigration target from 330,000 in 2019 to 350,000 in 2021, and our largest cities will likely get the lion's share of newcomers. In recent years, Vancouver, Toronto and Montreal together welcomed approximately half of all new immigrants aged 20-34."
Finally, the shared-equity mortgage for first-time homebuyers may well prove to be unpopular. A similar program was offered in British Columbia a few years ago, and there were very few takers.
The BC Home Owner Mortgage and Equity Partnership program, introduced in late 2016, was cancelled effective March 31, 2018, due to lack of interest. The province anticipated that the program would provide 42,000 loans over three years. However, as of January 31, 2018, there were fewer than 3,000 loans approved.
The new federal program will provide a larger downpayment for first-time buyers, but it only applies to homes priced just over $500,000 or less, which might help in some parts of the country, but in higher-cost regions homes that cheap are slim pickings.
Canadians don't want to share the equity gains in their homes, as most first-time buyers don't imagine that their home equity could decline. Governor Poloz, himself, forecast in the same speech that he's confident Canada's housing market will return to growth later this year. Population and job growth has been rapid pointing to the resumption of growth in depressed housing markets later this year.
Poloz is a champion of the B-20 guidelines, saying they have done what they were intended to do–remove the froth from bubbly housing markets. During the press conference following his speech, reporters asked if the governor would support a reduction in the roughly 200 basis point spread between the qualifying rate and the contract rate to which he responded in essence– a resounding, no.  By Dr. Sherry Cooper.  Chief Economist, Dominion Lending Centres
This is how much you need to make to buy the average home in Toronto: report
According to new data from Zoocasa, buying a house in Toronto is only accessible to those within the top 10% income group, as the city's houses have a benchmark price of $873,100.
Toronto is the second-priciest Canadian city to dwell on the list. Vancouver buyers must be within the top 2.5% tier to buy a home, with the city's benchmark of $1,441,000, sourced from the Canadian Real Estate Association and local real estate boards.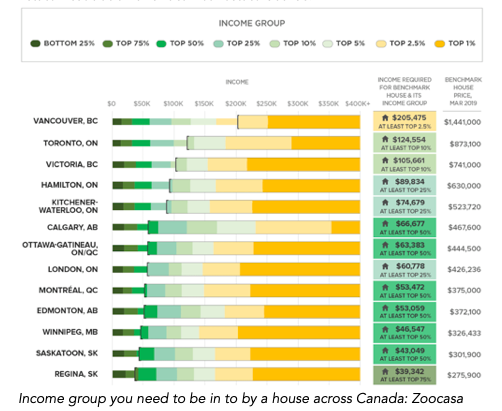 The study calculated the minimum income required to qualify for a mortgage in the above 13 census metropolitan areas (CMAs) across Canada. The calculations assume a 20% down payment, 3.75% mortgage rate, and 30-year amortization.
Findings were then cross referenced with income tax filings as reported by Statistics Canada to determine which income group buyers must align with in order to be able to purchase.
Findings show that it's not just home-prices that call for buyers to be in such spaces of income. Similar requirements apply for apartments and condos, too.
According to the study, those in Vancouver and Toronto must still have an income within the top 25% to swing respective prices of $656,900 and $522,300.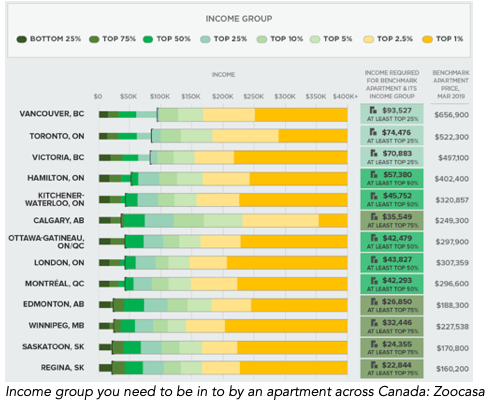 On the flip-side, the study highlighted the most affordable place in Canada to buy a home: The Prairies.
It's noted that for those within the top 75% income group in Regina, affording a home is feasible with a benchmark property costs $275,900. Saskatoon and Winnipeg are both close behind; incomes in the top 50% can afford homes priced at $301,900 and $326,433, respectively.
And even apartment purchasers can enjoy greater affordability in those places, with units accessible to the top 75% income group at respective benchmark prices of $160,200, $170,800, and 227,538.
So on top of quitting your avocado toast habit, there's something else to consider: moving to Regina.  By Kayla Gladysz.

Economic Highlights
BOC: "Canadian housing sector should return to growth" this year  
The Bank of Canada's decision to freeze interest rates at 1.75% was no great surprise but the Monetary Policy Report was a welcome insight into how the BoC sees the state of the economy.
Noting the recent slowdown in the economy, Governor Stephen Poloz said that the bank's Governing Council believe that it will prove to be temporary and that the global economy will adjust to current challenges including trade conflicts.
He spoke of the continued issues for the oil sector which in turn impacts housing in those markets that are more dependent on the sector.
However, for both oil industries and other exporters who would be affected if CUSMA was not ratified, the Governor said that weakness in the first part of 2019 is expected to give way to growth as the year progresses.
For housing markets, the BoC acknowledged that previously frothy markets including the Greater Toronto and Greater Vancouver areas have seen "significant revision" in price expectations.
But Stephen Poloz also pointed to other markets such as Halifax, Montreal, Ottawa, and Winnipeg which have seen the "solid activity" that would be expected in a growing economy with rising population and job creation.
He also highlighted the reduction in mortgage rates driven by lower global bond yields.
All things considered, the BoC expects the Canadian housing sector to "return to growth overall later this year."  By Steve Randall. 
The Deadline Passes And Trump Brings Down The Tariff Hammer – China Immediately Promises To Retaliate
At 12:01 AM eastern time on Friday, President Trump followed through on his threats and hit China with a massive tariff increase.  As you will see below, China immediately pledged to retaliate.  U.S. and Chinese officials will continue to negotiate throughout the day on Friday, but if U.S. officials were optimistic that a deal was imminent the trigger never would have been pulled on these tariffs.  At this point the gap between the negotiating positions of the two sides is still enormous, and that does not seem likely to change.  The Chinese have been taking advantage of the United States for decades, and they wish to continue doing so.  Meanwhile, President Trump and his advisers are absolutely determined to level the playing field.  Unless one of the parties backs down in a major way, there is not going to be a trade agreement and this trade war is about to get very real, and that is extremely bad news for the global economy.
Just minutes ago, the deadline that the whole world was watching passed, and as expected Trump's tariffs were imposed.  The following comes from Bloomberg…
The U.S. hiked tariffs on more than $200 billion in goods from China on Friday in the most dramatic step yet of Donald Trump's push to extract trade concessions, deepening a conflict that has roiled financial markets and cast a shadow over the global economy.
China immediately said in a statement it is forced to retaliate, but didn't specify how.
On Thursday evening, global markets were tentatively hopeful as U.S. and Chinese officials met to negotiate.  According to White House Deputy Press Secretary Judd Deere, negotiations will continue in the morning…
"This evening, (United States Trade Representative Robert Lighthizer) and (Treasury Secretary Steven Mnuchin) met with President Trump to discuss the ongoing trade negotiations with China. The Ambassador and Secretary then had a working dinner with Vice Premier Liu He, and agreed to continue discussions tomorrow morning at USTR," Judd Deere, White House Deputy Press Secretary, said in a Thursday evening statement.
But the negotiations did not go well enough to even delay the implementation of the tariffs.
At the same time the Chinese side has already prepared a response for all kinds of outcomes, Gao Feng, commerce ministry spokesperson, said in Mandarin, according to a CNBC translation. He was speaking at Thursday's weekly press conference.
It is likely that the Chinese did not immediately respond with new tariffs of their own because they would like to see how negotiations go on Friday.
In the end, the Chinese would love to get Trump to put a hold on tariffs yet again without giving him the trade agreement that he desperately wants.  Throughout this process, the Chinese tactic has been to delay, delay, delay and they will undoubtedly do their best to try to kick the can down the road once again.
But Trump has figured out that they have been trying to run out the clock on his administration, and this time he is putting his foot down.
And without a doubt, it is definitely good to see a presidential administration finally standing up to the Chinese.  They have been ruthlessly taking advantage of us and ripping us off blind for years, and that must stop.
"When a car is sent to the United States from China, there is a Tariff to be paid of 2 1/2%. When a car is sent to China from the United States, there is a Tariff to be paid of 25%," Trump tweeted April 9. "Does that sound like free or fair trade. No, it sounds like STUPID TRADE –  going on for years!"
Of course Trump is exactly correct.  It is not "free trade" and it is definitely not "fair trade".  If they want to impose 25 percent tariffs on our auto industry, they should expect the same treatment for their key industries in return.
All along, Trump has insisted that if China wants to remove all their tariffs that we would be willing to do the same thing, but the Chinese would never agree to do that.
So Trump is standing up to China, and that is a good thing.
Unfortunately, upsetting the status quo will also be exceedingly painful.
A full-blown trade war with China will be really, really bad for the global economy.  If Trump understood how bad things could potentially get, he probably never would have gone down this road, because it is going to be exceedingly difficult to get re-elected if the economy tanks.
I think that a little review of what happened during our last trade war will help us get a little perspective on what could be ahead.
On June 17th, 1930 President Hoover signed the Smoot-Hawley Act which imposed tariffs on more than 20,000 imported goods.
This coincided with the worst economic downturn of the 20th century.  U.S. GDP declined 8.5 percent in 1930, 6.4 percent in 1931 and 12.9 percent in 1932.
On June 12th, 1934 President Roosevelt signed the Reciprocal Tariff Act which essentially ended the trade war.
So what happened?
The U.S. economy grew 10.8 percent in 1934, 8.9 percent in 1935 and 12.9 percent in 1936.
Today, the global economy is far more interconnected than it was in the 1930s, and so the impact of a global trade war could potentially be much greater.
We need trade with China to be fair and balanced, but are we willing to go through an extraordinary amount of economic pain to get to that end result?
And once relations with China break down, will they ever be able to be repaired?
In the end, we are all going to have to live with the decisions that the Trump administration is making right now, and so let us hope that wisdom prevails.   By Michael Snyder.
Mortgage Interest Rates
Prime lending rate is 3.95%.  Bank of Canada Benchmark Qualifying rate for mortgage approval remains at 5.34%.  Fixed rates are holding steady.  Deep discounts are offered by some lenders for variable rates making adjustable variable rate mortgages somewhat attractive, but still not significant enough spread between the fixed and variable to justify the risk for most.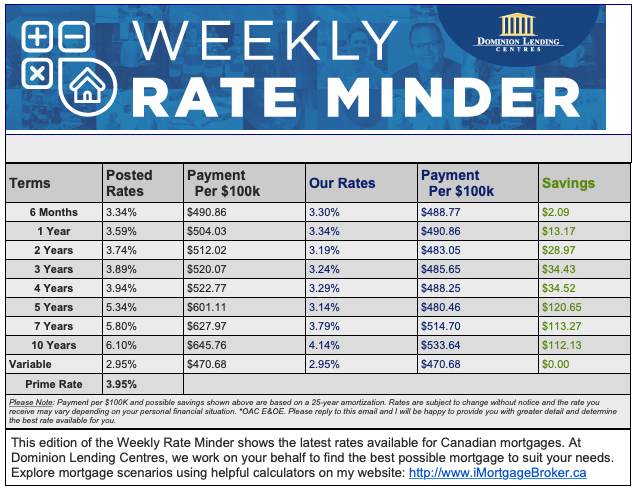 Other Industry News & Insights
Roundup of the latest mortgage and housing news. 
From Mortgage Professionals Canada. 
There is never a better time than now for a free mortgage check-up.  It makes sense to revisit your mortgage and ensure it still meets your needs and performs optimally.  Perhaps you've been thinking about refinancing to consolidate debt, purchasing a rental or vacation property, or simply want to know you have the best deal?  Whatever your needs, we can evaluate your situation and help you determine what's the right and best mortgage for you.